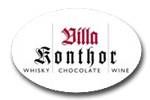 The new "Whisky & Chocolate Edition" of Villa Konthor from Limburg / Germany:
Finest Whiskys were combined with chocolate creations of Chocolatier Andreas Vogel.
Coming in a wooden box its perfect as a gift - but of course you can and you have to enjoy it by yourself too!
Dear Webshop Visitor,
please search your requested product through our searchform or category menu on the left hand side of this webshop.
The product with this system ID number is currently not available in our webshop.
This does not mean that this product is not available in our webshop!
It is possible, that products have become a different system ID number because of technical or organizational reasons.
If you have questions, please contact us. We would be very glad to help you!
Please appologize this inconvenience. Thank you very much!
To our homepage…