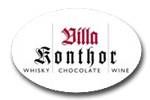 The new "Whisky & Chocolate Edition" of Villa Konthor from Limburg / Germany:
Finest Whiskys were combined with chocolate creations of Chocolatier Andreas Vogel.
Coming in a wooden box its perfect as a gift - but of course you can and you have to enjoy it by yourself too!
Please select a subcategory.
Numbers in brackets show how many products are listed in this subcategory.